FEDELCO, S.L.

C/ Lago Constanza, 46
28017 Madrid
Tel: 91 408 16 25
Fax: 91 408 16 90
10:00 - 13:30 horas
14:30 - 17:30 horas
de lunes a viernes.
More Views
Click to enlarge image
Double click to reduce image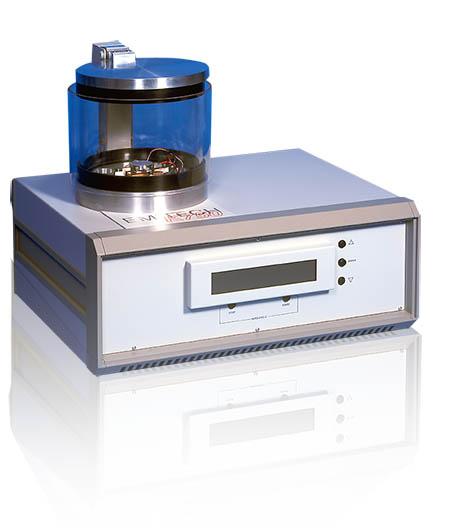 Descargar catálogo del
K750X en formato pdf
FREEZE DRIERS
K750X Peltier-Cooled EM Freeze Dryer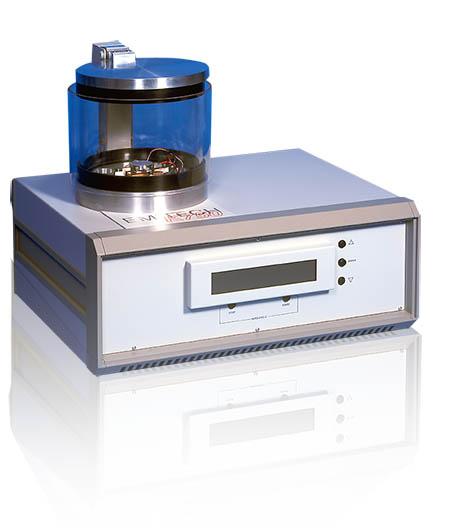 The K750X EM Freeze Dryer operates at rotary pump vacuum using a 'Peltier' thermoelectric stage. This means drying temperatures of down to -60°C can be achieved, enabling careful sublimation of frozen specimens under vacuum.
Key Features
Thermoelectric cooling and heating - accurate temperature control
Peltier cooling/warming stage - simple and convenient to use
Menu-driven operation - intuitive, easy to set up and run
Automatic drying cycle - unattended operation
Sputter coating and carbon coating options
Three-year warranty

Product Description




The freeze drying method

Freeze drying specimen preparation reduces the distortion and shrinkage effects that occur when a wet specimen dries by normal evaporation. Distortion is due to the forces of surface tension that occur when going from a liquid to a vapour phase, such as from water to water vapour - the normal situation with biological specimens.

The freeze drying method overcomes this problem by careful sublimation of frozen specimens under vacuum - a process that avoids the liquid phase and thereby reduces distortion effects. The rate of sublimation is a function of temperature and vacuum, with typical drying times being several hours or longer.

Achieving results

Ideally, freeze drying should be carried out at temperatures below the recrystallisation point of ice, but this would require very long drying times. In practice temperatures of -60°C (if back-up water cooling at 15°C is used – see E4860 option) have been found to give reasonable results under vacuums achievable with two-stage rotary vacuum pumps.

For certain applications, however, it is necessary to dry at temperatures below -80°C with lower sublimation rates for delicate specimens. This requires better vacuum than can be obtained using a rotary vacuum pump alone and the lower temperatures associated with liquid nitrogen. For such applications, the K775X is recommended.

Technique

Both the temperature and process time can be pre-selected and the drying cycle completed automatically. Provision is made at the end of the drying cycle to allow specimens to be warmed prior to embedding.

Disposable desiccant containers are positioned in the preparation chamber to enhance water vapour removal. Additionally, with a suitable container (eg a polystyrene pot), the vacuum chamber can be used to prepare 'slushy' liquid nitrogen for fast freezing specimens prior to freeze drying.

Specifications of the K750X Freeze Dryer

Instrument Case: 450mm W x 350mm D x 175mm H
Work Chamber: Borosilicate Glass 165mm Dia x 125mm H
Safety Shield: Polycarbonate
Weight: 18Kg
Specimen Stage: -60oC to +60oC
Vacuum Gauge: ATM -1x10-2mBar
Temperature Controller & Monitor: -90oC to +90oC, Display Resolution to 0.1oC
Timer: 0 to 999 Hours.
Options:: K50 Water Chiller, K250 Carbon Coating Attachment, K350 Sputter Coating Attachment
Services
Water Cooling: at Nominal 15oC
Electrical Supply: 230 Volts 50Hz (6 Amp Max. Including Pump)
Vacuum Pump: Pump No. 5 Complete with Vacuum Hose and Oil Mist Filter 85L/Min. 5m3/Hr.
Size: 470mm L x 150mm W x 150mm H
Weight: 20Kg

Para información adicional de nuestros equipos, accesorios o productos llámenos al 91 408 16 25
o enviarnos un e-mail a :